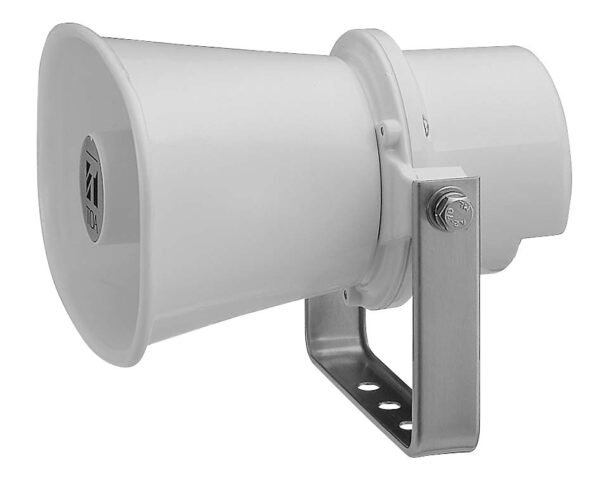 TOA SC-610 Paging Horn Speaker
Specifications:
Brand: TOA
Model: SC-610
Rated Input: 10 W (Mobile Mount use: 5 W)
Rated Impedance: 8 Ω
Sound Pressure Level: 110 dB (1 W, 1 m at 500 Hz to 2.5 kHz peak level)
Frequency Response: 315 Hz – 12.5 kHz
Dust/Water Protection: IP65
Polarity Hot: Black, Com: White
Operating Temperature: -20 ℃ to +55 ℃ (must be free from dew condensation)
Finish: Horn flare-: Aluminum, off-white, powder coating; Reflector horn and rear cover-: ABS resin, off-white; Bracket, screws & bolts-: Stainless steel; Speaker cable-: Polyvinyl chloride insulated cabtyre cable (6 mm in diameter, 600 mm in length);
Dimensions :172 (W) × 161 (H) × 188 (D) mm
Weight: 1 kg
Option: Swivel bracket: YS-151S (Can be used instead of the supplied bracket.)
Description
The SC-610 is a compact, highly intelligible speaker suited to public address announcement applications. Its external speaker component finished with powder coating, and stainless steel bracket and screws ensure the unit's weatherproof capability.
Very rugged speaker with durable construction ensures long term reliable operation
High-quality sound
Very high SPL
Easy impedance selection through the switch
Low impedance 8 Ω
Shock-resistant oval horn
Specifications:
Brand: TOA
Model: SC-610
Rated Input: 10 W (Mobile Mount use: 5 W)
Rated Impedance: 8 Ω
Sound Pressure Level: 110 dB (1 W, 1 m at 500 Hz to 2.5 kHz peak level)
Frequency Response: 315 Hz – 12.5 kHz
Dust/Water Protection: IP65
Polarity Hot: Black, Com: White
Operating Temperature: -20 ℃ to +55 ℃ (must be free from dew condensation)
Finish: Horn flare-: Aluminum, off-white, powder coating; Reflector horn and rear cover-: ABS resin, off-white; Bracket, screws & bolts-: Stainless steel; Speaker cable-: Polyvinyl chloride insulated cabtyre cable (6 mm in diameter, 600 mm in length);
Dimensions :172 (W) × 161 (H) × 188 (D) mm
Weight: 1 kg
Option: Swivel bracket: YS-151S (Can be used instead of the supplied bracket.)