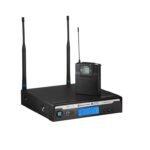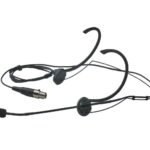 R300-E Head worn system with HM3 Omni‑Directional Wireless Microphone
Specifications:
Connector Type: 1/4 inch unbalanced, 3-pin XLR balanced
RF Sensitivity: (12 dB SINAD) less than 1.0uV
Audio Frequency Response: 80 Hz – 18kHz +/-2dB
Balanced Line Level Output (RMS Adjustable): 10 – 100 mV
Distortion: (@ 1 kHz, 40 kHz deviation) Less than 1.0, 0.4 typical%
Dynamic Range: greater than 95dB
Power Supply: 12 VDC, 500mA max
Polar Pattern: Omnidirectional
Battery Life: 14 hours with (2) AA alkaline typical
RF Output: 8 mW typical
Element: HM-3 Omni-directional Head Worn
Operating Temperature: Range 5º – 45º C (41º – 113º F)
Case Material: metal
RF Frequency Range: 16MHz
Signal-to-Noise Ratio: (A-weighted) greater than 100dB
Family:  R300
Power Requirement: 12-16 VDC, 500 mA max
Controls: on/off, Set, Up, Down, Sync
Antennas: Flexible TNC 1/2 Wave
Number of Channels: 32 per band, 8 Simultaneous
Diversity: True Antenna
Squelch: Tone Code plus Amplitude
Receiver Type: Synthesized PLL
Compare
Compare
Description
The R300-E  is a robust UHF wireless bodypack system, suitable for any application where the convenience of a wireless head-worn microphone is required. The system's BP-300 rugged metal bodypack transmitter is simple to use and is powered by two AA batteries. The system's light-weight, double-ear hook HM3 head-worn microphone is comfortable for extended daily use and provides the user the convenience of hands-free presentations or performances. The receiver's dual antenna diversity helps avoid signal dropouts, and its durable metal frame and chassis can either be used on a tabletop or rack-mounted with optional rack-mounting hardware.
Features:
ClearScan automatically finds the clearest channel
EZsync one-step channel setup
HM3 Omni-directional microphone
14-hour battery life from two AA alkaline
Rugged metal transmitter
Metal receiver chassis with optional rack mount
Specifications:
Connector Type: 1/4 inch unbalanced, 3-pin XLR balanced
RF Sensitivity: (12 dB SINAD) less than 1.0uV
Audio Frequency Response: 80 Hz – 18kHz +/-2dB
Balanced Line Level Output (RMS Adjustable): 10 – 100 mV
Distortion: (@ 1 kHz, 40 kHz deviation) Less than 1.0, 0.4 typical%
Dynamic Range: greater than 95dB
Power Supply: 12 VDC, 500mA max
Polar Pattern: Omnidirectional
Battery Life: 14 hours with (2) AA alkaline typical
RF Output: 8 mW typical
Element: HM-3 Omni-directional Head Worn
Operating Temperature: Range 5º – 45º C (41º – 113º F)
Case Material: metal
RF Frequency Range: 16MHz
Signal-to-Noise Ratio: (A-weighted) greater than 100dB
Family:  R300
Power Requirement: 12-16 VDC, 500 mA max
Controls: on/off, Set, Up, Down, Sync
Antennas: Flexible TNC 1/2 Wave
Number of Channels: 32 per band, 8 Simultaneous
Diversity: True Antenna
Squelch: Tone Code plus Amplitude
Receiver Type: Synthesized PLL