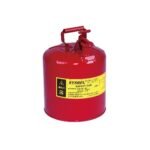 Description
Model No:SCAN002R
Size:29*40
Weight:2.65KG
SYSBEL Safety Cans are the typical, single-spout safety cans in widest use for conveniently carrying, dispensing, and storing up to five gallons (19 liters) of flammable liquids. The basic purpose of a safety can is the control of flammable vapors to reduce the risk of fire, protecting both personnel and facilities.
-Fixed and rounded carrying handle enables to accompany with the clamp to open the lid without any secondary linkages, bring convenience in carrying and using
-Lead-Free Technology, made from 24 gauge galvanized steel
-The reinforcement support shaft-design and centrosymmetric rib- design of the bottom, help to balance the can's interior force
-Positive press relief cap, leak-tight, automatically vent vapor between 0.2 and 0.35bar(3 and 5 PSIG) to prevent rupture(or explosion in event of a fire), Spring loaded, it closes automatically after filling or pouring
-Baked on lead-free epoxy paint finish, minimizing the effects of corrosion and humidity
-Seamless design for a combination of the top and the body of the can
-Yellow belly band with a warning and clear content identification area for added security
-Meet OSHA 29 CFR 1910.106, 1925.152 and NFPA Code 30
-Available in 2.5&5 Gallon Sizes,no weld bottom seam
SYSBEL  SCS

 

Specification

Type

Spill Capacity




(Gal/L)

Dimension

LxW(cm)

Packing Size
HxWxD
(cm)

G.W.(Kgs.)

Red Model

Yellow Model

Safety Cans
5/19
29×40
43x32x32
2.65
SCAN002R
/
Corporate Station Bangladesh is a professional supplier of Safety Can in Bangladesh. To know more about flammable safety can contact with Corporate Station Bangladesh anytime.