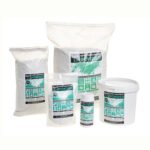 Description
Description:
This lightweight, dry, granular sorbent is safe for people, plants, animals, and food processing facilities. This granular absorbent is best used when poured beside the spill and then worked into the liquid with a stiff bristle broom. The granular will solidify the liquid so it can be easily swept away. Magic Monkey leaves your floors clean, dry, and free of slip hazards.
Application:
Effective on most types of spills including oils, fuels, chemicals, paint, antifreeze, bases, bodily fluids, non-hydrofluoric acids, and many others.
Corporate Station Bangladesh is a professional supplier of Absorbent Powder in Bangladesh. To know more contact with us.
#Universal Magic Monkey Granular BD