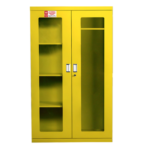 Description
【Description】
Model No:WA920450Y
Size:180*90*45(H*W*D/CM)
Weight:71KG
Accreditation And Standards:
It is mainly used for the storage of personal protective equipments or emergency equipment, such as helmets, protective glasses, overalls, protective masks, safety shoes, safety locks, first aid kits, so it is also known as PPE cabinet. In addition, emergency equipment cabinet is also widely used to store absorbents, chemical suits, chemical boots, protective glasses, protective goggles and other emergency equipments.
1.With 18Ga(1-mm) high-quality galvanized steel
2.Storage area for overalls, chemical-proof suits
3. Adopts lead-free epoxy paint, so surface paint is bright,
corrosion-resistant, and anti-moisture
4.Single-layer steel structure
5.Heaven and earth lock design, with durable structure
6.45Gal capacity
7. Equipped with a visual window made of PMMA. It is safe and transparent.
Corporate Station Bangladesh is a professional supplier of Emergency Equipment Cabinet in Bangladesh. To know more about Emergency Equipment Cabinet in BD contact with Corporate Station Bangladesh.