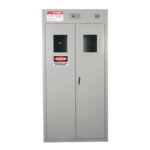 Description
SYSBEL Gas Cylinder Storage Cabinets are constructed of sturdy, 1.2mm steel with a tough powder-coat paint to save compressed gas cylinders (40L). The system with a gas leak detector, automatic alarm, and fan, which have an explosion-proof function, prevent effectively the risk of accidental gas leakage and provide a reliable solution for the storage of cylinders. All models are compliant to the requirements of OSHA 1910.101 and NFPA 58.
1. Constructed of durable, 1.2mm galvanized steel with a tough powder-coat paint to provide excellent corrosion resistance.
2. Equipped with explosion-proof windows on the door, making it convenient to observe.
3. Pass holes set on the side ensure well ventilation.
4.2-point manual latch with keyed lock prevents unauthorized access.
5. Adopted stationery chain to keep cylinders standing vertically.
6. Sturdy, foldable pedal on the bottom helps to load and unload easily.
7. A combustible gas detector system has certification with  ExdⅡ CT6 and IP65.
8. The alarm device will be activated flashlight and buzzer once the system detects leakage of gas.
9. Two air-exhaust systems are optional. One equips with fan and leakage is expelled externally to reduce gas concentration inside. The other provides a port for connecting between the main exhaust system and cabinet.
Corporate Station Bangladesh is a professional supplier of Gas Cylinder Storage Cabinet in Bangladesh. To know more about Gas Cylinder Storage Cabinet in BD contact with Corporate Station Bangladesh anytime.