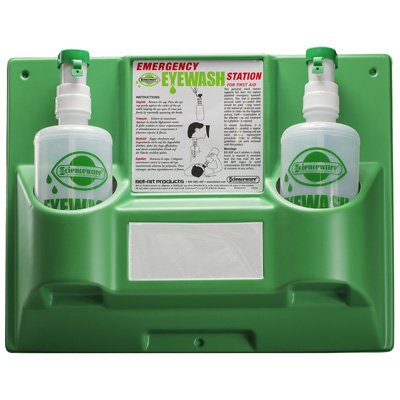 Eye Saline – Wall Stations
Description
Provide immediate flushing of the eye until the injured person can be helped to a primary emergency eyewash device.
Product Details:
Provide immediate eye relief during emergency situations
Green eyewash stations have highly visible operating instructions on each unit
With open-face wall design to provide fast and easy access
Perfect for emergency flushing and decontamination of eyes, face, and body
Fasteners included for quick wall-mount installation
Comes with an integral overhang to protect bottles from dust and debris
Made from durable plastic, makes the stations easy to clean
Wall stations have sealed, sterile, bottles that contain Eyesaline – a buffered, saline solution superior to tap water for emergency eye care
Blow-fill-seal bottles are tamper resistant, yet easily removed in an emergency
Have extended flow opening to allow a longer flow rate
Ensured quality and lasting value with FDA-grade polyethylene bottles featuring lot numbers and expiration dates
Available in single or double wall station
Corporate Station Bangladesh is a professional supplier of Eye Saline in Bangladesh. To know more contact with us anytime.