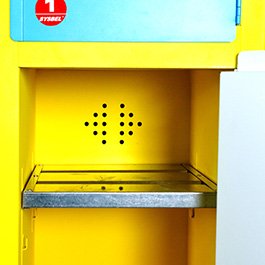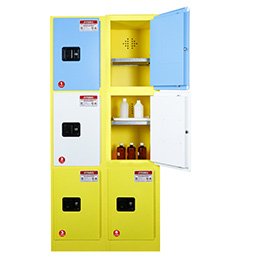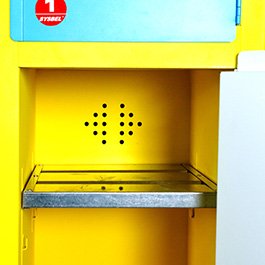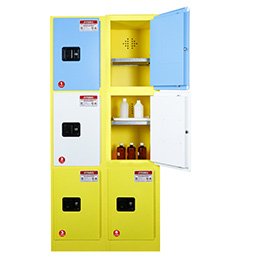 30 Gal Partitioned Storage Chemical Safety Cabinets – SYSBEL – WA032050
Model:WA032050
Size:184.5*86*46
Certification: 
Compare
Compare
Description
30 Gal Partitioned Storage Chemical Safety Cabinets
30 gal partition storage chemical safety cabinet is an integral fireproof structure design with multiple separate partitions inside. The cabinet door can be visually managed according to the type of stored chemicals. Hazardous chemicals can be classified, stored and controlled in different areas. It effectively solves the problem of chemical storage in places with many types and small quantities of chemicals due to limited sites. Safe and effective storage management of hazardous chemicals.
Product Descripsion:
Model:WA032050
Size:184.5*86*46
Certification: 
Product features
Epoxy electrostatic spraying

The cabinet is treated with epoxy resin powder coating for a bright finish, dust-proof, rust-proof and moisture-proof.

Three-point interlock

It can reduce the mechanical spark due to friction and reduce the accumulation of static electricity. It can be equipped with a safety padlock to realize double lock management.

multiple storage spaces

There are multiple internal storage spaces, which can be stored according to the nature, classification and partition of chemicals.

Internal air duct structure

The unique internal air duct structure can ensure the fireproof performance while allowing the gas inside the cabinet to be discharged smoothly.

Can be equipped with intelligent air purification equipment

The installation position of the purifier is reserved on the top, which can be equipped with intelligent air purification equipment to realize the purification of the gas inside the cabinet without pipes.
Product Introduction:
1) The cabinet is a double-layer steel plate structure, which meets the requirements of FM standards, and complies with the OSHA 29 CFR 1910.106 of the US Occupational Safety and Health Administration and the NFPA CODE 30 specification of the National Fire Protection Association of the United States.
2) Epoxy resin powder coating treatment, bright surface, dust-proof, rust-proof and moisture-proof;
3) SYSTEX three-point interlocking reduces friction or mechanical sparks and reduces static electricity accumulation;
4) It can be equipped with a safety padlock to achieve double-lock management, in line with China's "Regulations on the Safety Management of Hazardous Chemicals";
5) There are multiple internal storage spaces, which can be classified and stored according to the nature of chemicals, which fully solves the storage troubles of small amount and variety of chemicals, and avoids the hidden danger of mixed chemicals;
6) When weakly corrosive chemicals are stored inside, PE tray WAT004 can be equipped for placing chemicals;
7) The unique internal air duct structure ensures the fireproof performance and the smooth discharge of the internal gas;
8) The top is equipped with an external air outlet valve, which can be connected to an external ventilation pipe. When the ambient temperature reaches 70 °C, it can be automatically closed to block the fire source;
9) The installation position of the purifier is reserved on the top, which can be equipped with intelligent air purification equipment to realize the purification of internal gas without pipes;
* Optional FM-certified anti-static device (WA002) to introduce static charge into the ground and reduce the risk of fire caused by static sparks
Various models are available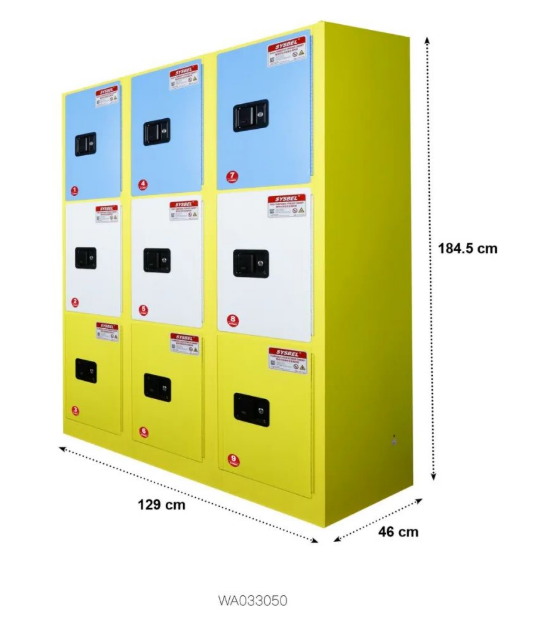 Specification:
30 Gal Partitioned Storage Chemical Safety Cabinet

Model
WA031050
WA032050
WA033050
Volume(Gal/L)
15
30
45
Certification
CE
Door type
3 door
6 door
9 door
Ext dimension

(HxWxD/cm)

84.5*43*46
184.5*86*46
184.5*129*46
Packing dimension

(HxWxD/cm)

194*49.6*52.6
194*92.6*52.6
194*135.6*52.6
Adjustable Shelves

(Pcs)

3
6
9
Shelf Loading

Weight(Kgs.)

50
Note
Three colors available:yellow, blue, white