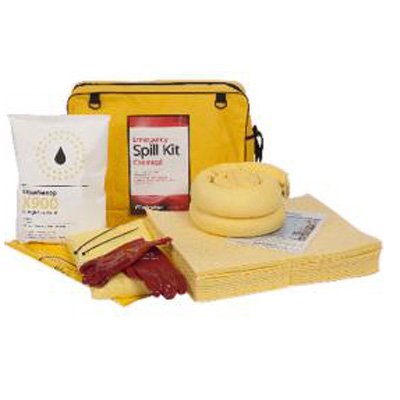 50 Liter Chemical Spill KIT – Perfect Spill Kits for Industry – in Portable High Visibility Yellow Tote Bag – Chemical Spill Response
Compare
Compare
Description
Chemical Spill Kits is very essential in Bangladesh because Bangladesh is very concern about the environment nowadays. Every year nature is contaminating by a large number of the risky chemical. It's mixing with air even we don't understand.
In the preliminary stage, we actually not understand the damage. But for the long run, these kinds of risky chemical damage our soil & peoples life.
That's why Corporate Station Bangladesh has introduced a small set of 50 Liter chemical Spill Kits Set in BD. This small spill kits set can absorb 50 Liter Chemical. For any kind of spillage, spill kits are the best solution to absorb. Absorbent roll stops the spatter of the liquid chemical or oil, Absorbent pillow absorb a good volume of the liquid & absorbent pad is the most important for absorbing spillage liquid in any circumstance. Our 50L Chemical spill kits set is with many components. Like:
Absorbent Pads
Absorbent Socks
Absorbent Pillows
Nitrile Gloves
Safety glasses
Spill Response Guide
Disposal Bags
Dustpan
Nylon Bag
SOP FOR CHEMICAL SPILL KITS:
The waste drum should be placed on the plate box so that spilled chemical cannot skip over the drum during it is poured in. The waste drum should be covered always.
Whenever chemical is spilled & flows away on the floor chemical should be soaked by foam sheet. The spilled chemical should be picked up by shovel and kept into the drum box after covering with a bag.
The chemical pad should be used to swipe the remaining chemical as the chemical cannot be soaked totally.
The spilled chemical should be sucked up by chemical sucker & preserve into the waste drum.
During accidental chemical spill on the floor, the chemical should be covered by granules & should be mixed up by shovel then keep into a waste drum.
The chemical waste drum should be packed up with chemical disposal bag and kept on a waste area along with the appropriate label.
Appropriate PPE should be used always.
To know more about Chemical Spill Kits BD contact with Corporate Station Bangladesh anytime.